In December last year, Netflix brought us a true gift with The Witcher. Offering the right amount of action, romance and adventure, The Witcher has taken audiences around the world by storm in a way that can only be compared to the Game of Thrones mania. It's no surprise that over 76 million people watched the monster hunters in action within the first month of its release. I mean, Geralt and that tub… need I say more?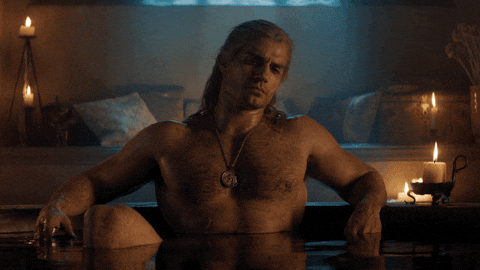 With the new season still in production, the second season seems too far away to bear. Luckily the good folks at a number of fan sites like Witcherflix are keeping the brilliant content coming.
While we wait for the much-anticipated release of the second season, we thought we'd have a look around for something else to satisfy our Witcher cravings in the meantime. So, we've rounded up 37 gift ideas for true fans of The Witcher, one for every glorious year that Henry Cavill has been alive. Whether you're looking for a nerdy anniversary gift, birthday present, or even a little self-care gift to keep you going until season 2, there's something for everyone on our list.
1. Start a new year around the sun than with this cool Geralt of Rivia birthday card from Freckle & Specs
2. A cute sticker to remind you to take it easy
3. The only charms you'll ever need, inspired by Jaskier's song Toss A Coin To Your Witcher
4. Have your favourite cast on your nightstand with this A4 photo autographed by the gang
5. Valentine's Day is around the corner and we'd argue there's no better way to express your love with Geralt's sexy face?
6. Need a little help getting up in the morning? This heat-reactive Geralt mug is bound to do the trick
7. Now you can have a monster hunter watch over you at night with this epic figurine
8. A new addition to your bedroom wall perhaps?
9. Get a feel for the monster hunter life with this Ciri of Cintra Armor chest collar and pauldrons
10. A set of subtle but effective cufflinks if you want to sneak some monster hunter energy into your next special occasion
11. Cookies taste better when they're the shape of Geralt of Rivia's face
12. Toss some coin at your very own limited edition Witcher notebook
13. Keep your passion close to your chest with a trendy medallion t-shirt
14. Your very own mini Geralt in the form of this cute Funko Pop vinyl action figure
15. In need of a little bit of bling to ease the wait? Try this stainless steel wolf medallion necklace
16. Be the cool kid on the block with some The Witcher high top sneakers
17. Keep cosy under a bedspread featuring Jaskier and his lute
18. The fearsome monster hunters in cute crochet! If you're feeling really adventurous, get the amigurumi crochet pattern and make it yourself.
19. These cool slate coasters are an ideal house-warming gift
20. This sultry framed illustration speaks for itself
21. Keep it classy with some intricate and adorable stud earrings
22. A Gwynbleidd vinyl sticker on your laptop is sure to keep you motivated at work
23. A beautiful resin pendant from Femme Craft with our favourite catchphrase; perfect for your favourite person
24. A classic Geralt moment that you can carry along with you as you go about your day
25. For obvious reasons…
26. A couple of cute cartoon keychains by The Dutchesse Art to keep you smiling
27. So your little one can also get in on the action
28. This phone case with an important reminder
29. A bookmark for in case you can't handle the wait and go back to read the original story
30. You can never have too many mugs
31. Yes, it's Geralt in the Bath again. But no, it never gets old.
32. Embrace your inner nerd with this Witcher-themed candle from NerdieNifties. Nothing like the wooden scent of a monster-infested forest to relax to at the end of a busy day
33. Drown your sorrows with this pint mug while you wait for Season 2
34. This adorable tub pin is too cute for words
35. Keep warm this winter with a sleek and stylish sweater
36. This stunning watercolour of our favourite Ciri
Toss a Coin To Your Witcher Gift
Whether you're buying for the prophesied Princess Ciri, love interest Yennefer or Geralt of Rivia himself, tossing a coin to any of these gift ideas will fulfil your destiny as the most badass monster hunter in all the land.
We're all in this together and we'll do our best to keep the content coming but if you find any The Witcher merch that you think deserves a place on the list let us know in the comments below! In the meantime, here's the official trailer for you to watch again and again and again.