"These are perilous times. The crown must forge new alliances – and these alliances must often be sealed in matrimony."
– Tyrion Lannister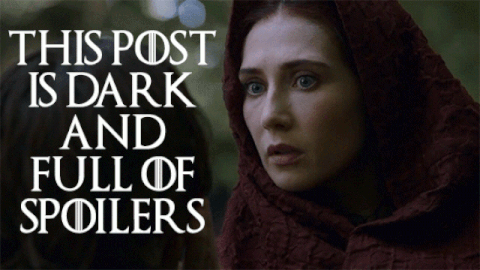 Ned Stark's relentless foreboding warnings came true – winter in Westeros is here, and it looks like it's going to be for a while.
But far beyond the wall, in our world, the season isn't winter – it's weddings. Weddings in Westeros rarely turn out to be a jovial affair (the Red Wedding ring any bells?) but this doesn't mean you should shy away from bringing a touch of Fire and Ice to your nuptials.
Will you marry for love, as King Robb did his beloved Queen Talisa (bear in mind this ended in a bloody massacre). Or will you marry in the name of an alliance, like Lady Margaery Tyrell to the callous King Joffrey, in the hopes of inching closer to the Iron Throne?
Hold the door. You have no idea what I'm talking about? You haven't watched Game of Thrones? Shame. Shame. Shame. Then you're probably one of the 0.0005% population who haven't invested hours of their lives into the show. The premiere of the final season of "Game of Thrones" drew in a record 17.4 million viewers, HBO's biggest night ever for streaming.
With such massive popularity, it's no wonder Game of Thrones-themed weddings have become as hot as Drogon's breath.
Whether you're part of the betrothed couple or are just at the ceremony for the free drink and whores, you're going to need some help navigating this treacherous occasion of the Seven Kingdoms. After all, as good ol' Cersei says, when you play the game of thrones, you win or you die.
We've scavenged and plundered the Internet for amazing inspiration for your own GoT wedding. We also invited an entire army of wedding professionals to douse you with top GoT tips. From the proposal to the dress, here is all you need to start your married life with an EPIC ADVENTURE:
The Bending of the Knee – Proposals
Before there's even a wedding, there has to be a proposal. And that means that someone has to bend the knee.
We can't get over the effort that Jesse put in to pull off the ultimate GoT proposal for the love of his life, Kerrylene. While on a Game of Thrones Locations Tour in Northern Ireland at the real filming locations, the sneaky King in the North surprised his fiance with an engagement ring, carried by none other than the real-life direwolves from the show, Summer & Grey Wind. A banner with a heart and the words "House Lambio" was unrolled, as he bent the knee. Naturally, she said yes.
If anyone deserves a GoT proposal, it's the suitably named Casterly Fox. The NYC Cosplayer was was in the middle of a Game of Thrones-themed photoshoot when her fiancé, Eddie Sutton, popped the question.
What we really loved about this GOT proposal is their choice of characters – Fox was dressed as the ruthless women we love to hate, Cersei Lannister, while her fiance was was dressed as her personal bodyguard, Ser Gregor "The Mountain" Clegane.
They were surrounded by fellow cosplayers dressed as "King of the North" Jon Snow, The Mountain's brother The Hound, Lannister's rival Daenerys Targaryen, and Targaryen's advisor Missandei.
GoT Proposal Checklist:
Spontaneity
Game of Thrones film location
Dress up in character
Bend the knee
What would Arya have to say about all these? Susan Miller, chief editor at GoT fansite Watchers on the Wall thinks Arya wouldn't even suggest a wedding, nevermind a proposal:
"Given Westeros' track record for terrible weddings, Arya would say first of all, "Don't do it, idiots!" And then she'd tell you to slip a dagger into your garter belt- if anyone tries to mess with you at your wedding, stick 'em with the pointy end."
Engagement/ Wedding Rings
Valyrian steel, Lannister gold, dragonglass – there's plenty of precious stones in the Seven Kingdoms to choose from. The genius behind the dramatic jewellery of the GoT TV series can be credited to Yunus and Eliza, an award-winning pair of British jewellery sculptors. You can actually buy the pieces they made for seasons 5,6 and 7 on MEY Designs, their jewellery line made in collaboration with GoT costume designer Michele Clapton. But if you don't want to go that far, (or don't have enough dosh in the Iron Bank) here's some inspiration for engagement and wedding rings that would make even the richest of Lannisters envious.
This gold emerald eternity ring from ARDONN has it all – it's sturdy, delicate and has one of the most romantic phrases of Game of Thrones: "Moon of My Life." A perfect gift from a Dothraki king to his Khaleesi.
Seamus Fahy at Voltaire Diamonds tells us what's trending in the world of Game of Thrones inspired jewellery:
From a design and trend perspective, we have witnessed an increase in bespoke requests for engagement rings and wedding bands featuring some subtle Celtic details. Despite being set in the fictional Seven Kingdoms of Westeros and the continent of Essos, the jewellery featured in Game of Thrones appears to be very much inspired by Celtic & Norse Art. The Jewellery represented in Game of Thrones heavily features a lot of symbols from Celtic mythology. The Dragon is one such symbol and it was widely believed that the dragon protected the Earth and all living creatures. Indeed, the ancient Celtic Druids strongly believed that the Celtic dragon's power affected the movement of energy through nature. The Dragon is a powerful symbol and this is reflected in the many pieces of jewellery featuring dragons in the Game of Thrones series.
From an engagement proposal perspective, we have noticed an increase in proposals in the many beautiful locations in Northern Ireland where Game of Thrones is filmed. Some of the top proposal locations are Tollymore Forest Park near Newcastle in County Down and of course the stunning Cushendun Caves, situated along Antrim's beautiful Causeway Coast. A recent client chose the beautiful 11 km stretch of sand at Downhill Strand to get down on one knee. Widely considered one of County Derry's best beaches, Downhill Strand was the filming location of Dragonstone in Season 2.
Fairina Cheng is an award-winning contemporary jeweller from Down Under who specialises in unique jewellery for story makers and rule breakers. I wonder if she knows about jewellery for breakers of chains? According to her professional insight into Game of Thrones inspired wedding jewellery, it sounds like she does:
Consider a ring inspired by the theme "A Song of Ice and Fire" (the series of novels from which Game of Thrones originated.) The ring might be a flowing design with two halves, one set with cool-toned gems like aquamarines, blue topaz, deep blue sapphires and icy white diamonds. The other with bold, fiery colours like citrines, rubies, garnets and yellow sapphires.
Or perhaps a ring inspired by House sigils. For example a bright blue sapphire bordered with a yellow gold bezel and a winding wreath-like ring band for Algood in Westerlands. Or a chunky sterling silver ring with a blackened battle axe emblem, textured with roughly chopped facets for Cerwyn in the North.
Valerie from the suitably named King Jewelers found the perfect GoT engagement ring.
This is an "estate" piece that came in recently. Although I doubt it dates back to the middle ages it would be perfect for Daenerys Targaryen. And if she and Jon Snow were to marry I would strongly suggest the guest list not include anyone with the last name of Lannister, Frey or Bolton.
Maria Doulton from The Jewellery Editor supplied us with a top list for GoT bespoke jewellery designers:
Duffy Jewellery – edgy and romantic, a favourite with the arts crowd in London looking for bespoke rings and jewels
Jack du Rose – gothic and very high end, all one-off creations by commission
Stephen Einhorn – used to working with cinematic themes and has done jewels for films such as Dumbo and Cinderella, Tomb Raider etc.
Lydia Courteille – based in France and the queen of quirky and weirdly wonderful jewels
There are a number of jewellers in this article who have worked with Tomfoolery in London to create really interesting stacks that have a GoT air.
GoT Wedding Ring Checklist:
Personalized engraving
Celtic details
Dragon symbolism
Cool-toned gems and fiery colours
House sigils inspiration
Hen Do for the Mother of Dragons
Your Game of Thrones theme doesn't just have to be for the wedding. Get the ball rolling with a fiery bachelorette party. We recommend theming the hen do around Daenerys Stormborn of House Targaryen, the First of Her Name, Queen of the Andals and the First Men, Protector of the Seven Kingdoms, the Mother of Dragons, the Khaleesi of the Great Grass Sea, the Unburnt, the Breaker of Chains. But if that's a bit too much to fit on the invites, you can just call her Khaleesi.
I'm not sure if Dany's dragons and swimming pools go well together normally, but in this case, they certainly do. I think we all wish we had a friend as great as Meg Keen to throw us the kind of Game of Thrones bachelorette pool party she threw for her friend Gina.
With the help of The Wedding Shop by Shutterfly, Meg nailed every aspect of her friend's poolside hen do, from dragon floaties, to a fiery Mother of Dragons wineglass, to personalized tote bags filled with GoT goodies. Oh, and did we mention she spent an entire month sewing sequins on six sun hats, so her gal pals could have the perfect GoT themed pool attire? Now that's the kind of best friend every Khaleesi needs in her life.
Another Khaleesi to get pre-wedding spoilt was Caitlin, whose coworkers transformed their office break room into Westeros, complete with edible dragon eggs, GoT Hoppy Wheat Ale and an office-chair turned Iron Throne.
https://twitter.com/yelirand/status/913144299990192128
This bridal shower for Khaleesi Jeanice was surely the talk of Dragonstone, with its intricate table settings and GoT tiered cake, with none other than the bride-to-be perched on a deliciously sweet Iron Throne.
To get everyone in the Westerosi mood, have custom tank tops made before the day, like these ones from Madison Foundry. The bride's shirt can have a cute GoT reference like "He Bent the Knee", "Future Queen of the North" or "A Girl Has a New Last Name." Naturally, the Maid of Honour will be "Hand of the Bride". As for the rest of the bridesmaids, they'll love wearing a top with "Wedding is Coming", "I Drink and I Know Things" or "A Girl Has No Vodka", depending on how raucous the hen party is expected to get.
For an extra touch of pizazz to make the bride-to-be stand out, this amazing Game of Thrones inspired hen party set from Nora and Katie is a dream. It comes with a sash, styled with your choice of "Wedding is Coming" or a customised "Bride of House _____." Then there's a gorgeous veil and crown, with intricate details fit for a true Khaleesi.
GoT Hen Do Checklist:
GoT bachelorette themed t-shirts
Bridal sash & crown for the Mother of Dragons
Edible dragon eggs
Dragon floaties
Plenty of Dornish wine
Stag Do with the Night's Watch
A weekend with the lads in Westeros? That sounds like something Jamie Lannister would give his right hand to attend.
Jason Hulott, from the Medieval Sword School, says:
One thing that you can do if you want to have some GoT swordplay at your wedding (or in the build-up to your wedding) is a sword workshop as part of your Hen or Stag party.  There are a number of instructors that will do this for you. This is something we have offered in the past. But obviously in the afternoon before any serious drinking as it is not safe to drink and sword….
Sure you can take the words 'stag do' literally and have the boys dress up as Baratheons, but maybe you should save the real cosplay for the wedding. Like the fine ladies of the Seven Kingdoms, get the guys kitted out with custom-made Game of Thrones t-shirts, with sayings from the show like "Wedding is Coming" and "The Grooms Hand."
The go-to place for any crazy stag-do in Westeros would be Littlefinger's brothel, but with what goes on in there, I'm not sure the future Queen would be so happy with that. Instead, why not keep it classy with an unusual stag do experience? Get the gang together for a hands-on cured meat butchery masterclass at Cannon and Cannon Meat School, Britain's leading butcher-charcutiere. Westeros is big on its meat, but don't worry it's not Dothraki horse meat (no stallion hearts to be eaten here.) Instead, you'll learn everything from boning and skinning a pig, to how to break down the animal into cuts for curing, before enjoying a royal feast of meats with plenty of beer and wine. Just make sure you haven't got any wild boar hunts scheduled afterwards; we all know that pig hunting and wine drinking don't go well together. Just ask Robert Baratheon.
For a total weekend affair, Stagweb has a whole range of totally epic Game of Thrones stag party activities held at the real Winterfell, like their Game of Stags Experience. For a day, become members of the Night's Watch, battling it out with Axe Throwing and Archery. Feast on a hearty lunch with some Winter Ale to warm you up, before you hunt the White Walker under the sprawling trees of Winterfell forest.
GoT Stag Do Checklist:
GoT bachelor themed t-shirts
Meat masterclass
Game of Stags Experience
Hunt White Walkers at Westeros
Plenty of Winter Ale
A Wedding is Coming – Invitations
Invite the Lords and Ladies of Westeros with a suitably grand wedding invitation that'll give them a taste for how grand your union will be. Your formals invitations should be written on parchment, decorated in your House colours and sealed using your House sigil. Oh, and it goes without saying they should be delivered via raven.
What would Ramsay say?
Founded as far back as 1995, Adam J. Lawless and the product team at Vistaprint have created hundreds of expertly designed, one-of-a-kind wedding invites. They recommended two ways of adding that Game of Thrones flair to your wedding invitations:
Approach 1:
For a more subtle nod to the show, go for an invitation that embodies the style of the realm. Pair elaborate patterns and gold detailing with dark colors or rich jewel tones to create a moody, yet elegant look. Use an intro line that harkens back to the show such as "A wedding is coming" to really set the tone.
Approach 2:
For a more literal nod to the show, use recognizable imagery such as ravens, trees, dragons, swords, etc. Use darker colors and textured backgrounds to create a dramatic feel. Phrase the couple's last names as "house names" for an added touch (i.e. Sansa of House Stark to Joffrey of House Baratheon).
Le'Trice Penn of Gourmet Invitations suggests taking some inspiration from the mind-blowing costumes worn in the show to set the tone and excite your guests:
For a GOT-themed wedding, I'd recommend incorporating patterns and texture into your invitation suite. Inspired by the amazingly detailed wardrobe of the women in the medieval times you could incorporate embossed printing that feels great to the touch and evokes a sense of what the garments were like back then.
Jacques Oskanian of Hyegraph is an expert in invitations and calligraphy and reflects on how to bring the theme across:
For GOT-themed wedding invitations, think deep, dark and moody colors like blacks, charcoals, navies, burgundies, etc. Keep the design simple yet elegant by minimizing design elements while playing up fun verbiage, such as "Wedding is Coming", or go all out and top it off with a custom wax seal.
Liz tells us what she and her team from Paper Rock Scissors has in mind for a Game of Thrones wedding invite:
I think if we wanted to be really on the nose we could do some kind of a dragon element, maybe a dragon printed envelope liner?
If we wanted to try to be more elegant with it I would create some geometric patterns and graphics that would look like they would fit in well with the decor and setting of the show without being overly "theme-y". We could use some old world fonts and language elements to keep it consistent with the time period as well.
Brad Mills at the Invitation Maker gives three tips on how to create personalized wedding invites without the drama:
If you want a GOT themed wedding you should also include GOT themed wedding invitations. Here are 3 recommendations when working on custom wedding invitations.
Be Prepared – When working with your designer it's best to come prepared with an idea in your head. A lot of brides we work with will have some examples of things they like. 2. Start early – You don't want to rush your designer and feel extra pressure so give yourself plenty of time for creativity so it's an enjoyable experience for everyone involved.
Enjoy the process – Often times people focus so much on the end result but enjoy the process of working with a designer and really creating something beautiful that will be that first impression of your wedding day to your guests.
At theinvitationmaker.com we can help you create personalized wedding invitations.
You can also go DIY by having a custom-made wedding stamp like this Game of Thrones save-the-date from BitwerswitDarkSide.
Madhulika from The Wedding Sutra makes a strong point for staying true to yourself when it comes to themed weddings:
I would look beyond the obvious riff on the Stark house motto ("wedding is coming!") for your save-the-date or wedding invitation! For a wedding that deserves its own iron throne, take inspiration from your favorite show and make it your own.
Think hand made paper, sewn or embroidered, medieval fonts that evoke the Games of Throne typography, wax seal customised with your wedding logo, and incorporate your favorite Game of Throne quotes like "you are my moon and stars".
Do not forget that it's your wedding and not Daenerys and Drogo's, so let the invitations reflect your own personality too.
GoT Wedding Invitations Checklist:
Elaborate patterns and gold detailing
Recognizable imagery (dragons, trees, swords)
Written on parchment
Sent via raven
The Devil is in the Detail
So you want to throw your own epic, sword-clashing spectacle of a Westeros wedding? This is no easy feat, and you'll need all the Seven Blessings you can get. If your list of things to do to as long as Arya's Kill List, don't fret. We've covered every inch of the South, North, and beyond the Wall when it comes to the finer details of a Game of Thrones Wedding.
As the digital editor of Bride Magazine, Sarah Harris certainly knows a thing or two about how to pull off an incredible wedding. She shares some of her expert ideas on how to have that one GoT wedding to rule them all:
A Game of Thrones wedding theme offers so many possibilities. If you're looking to style your wedding the Westeros way, firstly think about the venue. While a castle or medieval building may be your initial thought, you can equally transform a 'blank canvas' venue such as a marquee or village hall by focusing on the details.
Use fonts and illustrations in your stationery that will transport your guests to the fictional far away land before the big day. For your table plan and table names, arrange people by city or stronghold names such as Dorne, Dragonstone, Qarth, Braavos, Highgarden, and The Eyrie.
Add decorative touches to your tables such as goblets and metallic crockery and cutlery interspersed by abundant floral arrangements amid a moody colour palette.
Finally, think about your look as bride and groom. To emulate the colder, northern families, don furs and heavy cloaks. For a more King's Landing style, go for light colours and fitted garments à la Margaery Tyrell and Cersei Lannister. Or, if you want to mimic the style of the Queen of Dragons, opt for a long, flowing white dress. A dainty tiara sat atop intricate braids or cascading curls, complemented with natural yet striking make-up, will complete your bridal look.
Seating Plan
We know that your guests will all be fighting over control of the Seven Kingdoms. But it's your day. You're in the Iron Throne, and they need to be put in their place, Cersei style. To prevent any full-scale wars, have a personalised Game of Thrones seating plan at the entrance. Your venue can represent the maps of Westeros, with each table representing a separate house. Have Game of Thrones-themed placement cards at each table. But whatever you do, just keep the Lannisters away from the Starks. And the Baratheon's from the Tyrells. And the Tulleys from the Lannisters. You get the picture.
Decor & Props
The possibilities for GOT themed decor is endless, so it can be a bit overwhelming. A good place to start is with your colour palette, depending on which of the Great Houses you're basing your wedding on.
Table settings are an excellent aspect of the wedding to get creative and use your House colours; rich reds and golds for Lannisters, grey and white for Starks, gold and green for Tyrells and red and black for Targaryen. Banners from the Great Houses and medieval goblets give the venue that royal romance feel from a bygone era, as seen in this amazingly detailed Lannister-themed table setting done by Duncan Reyes Events.
Because electricity isn't really a thing in the Seven Kingdoms, you'll need plenty of candles to set the mood. Zania from Alice in Weddingland gives her expertise on the matter:
To stand out from the crowd consider candlelight for your Game of Thrones wedding. Used cleverly scented candles can add a unique atmosphere and stylise the room with ancient light.
Scented candles also give you a fabulous way to remember your wedding day in years to come. Simply light your wedding scent and voila, you're transported back to your big day. Scent is powerful and evokes memories so why not include scented candles in your GoT wedding.
Professional wedding and party planner Susie of Inspired by Susie Evans give us some of her insider tips for Game of Thrones wedding venues and tablescapes:
Setting the scene with your venue choice with the theme of Games of Throne to include a forest or woodland with a barn as it calls for an outdoor setting.
For the tablescape, I would create a rustic style banquet fit for a king including lots of candlelight and fresh foliage and natural materials with opulent tones to set the scene.
It's not just all about the guests' tables! The bride and grooms' table should be full of finer details too to fully transport them to Westeros. We're over the moon with the celestial concept behind this Game of Thrones themed wedding shoot by Whimsy Design Studio. The deep colour palette of blues, earthy tones and mixed metallics totally complement the forested setting. Khaleesi would approve.
Despite the morbid nature of nuptials in the series, Ellie at the Wedding Collective has a talent for using innovative ideas and modern aesthetics to bringing a theme like Game of Thrones to life at your wedding:
Sure, it's a series basically about death (spoiler alert) but there are some beautifully romantic elements to it too! If there are any quotes that really make you tear up, why not include them in your invites, your table decor, or a giant banner to hang behind your top table? Personally, we're big fans of "You are the moon of my life" – CUTE.
How do you bring Daenerys into 2019? Long, dramatic sleeves. There are loads of gorgeous wedding dresses that bring that beautiful flowy fabric and trailing sleeve style into their designs in a more bohemian, slightly less cosplay kind of way.
Props are a fantastic way to make an impact and really wow your guests. But there's a fine line between going overboard and making your wedding kitsch, and keeping it classy. To ensure that your guests know they are now in Westeros, and must behave accordingly, have a Game of Thrones inspired welcome board, like this one from Catch My Party, accompanied by a mighty sword.
How gorgeous are these romantic Drogo-Daenerys wine glasses from Nexus Glass? They'll add a nice touch to the groom and bride's royal wedding table, and will be a great takeaway from the wedding to remind you of your special day. To show even more attention to detail, we love these simple, understated wine charms from Life Baubles:
For a truly immersive wedding, no aspect of the big day must go untouched. And this includes the crapper. A john fit for Jon Snow himself, this magnificent Game of Thrones toilet by Tim Baker Creations is the shitting image of the Iron Throne. Its intricate design and Dark Grey Metal finish will make it the central-attraction in any bathroom. Bridesmaids be warned – the bride may need some help getting on to this regal seat if she's wearing a poofy gown.
The authentic, medieval tables of Mandie Bettencourt and Julian Roman's wedding showed that a geek-chic wedding can be executed without being cheesy. Guests dined at long wooden tables, decorated with vibrant floral centerpieces, moss-covered wood, and colorful fruit. Once again merging two fantasies, these couple of love birds married on the SyFy reality show My Big Fat Geek Wedding in a Lord of the Rings and Game of Thrones-inspired celebration. The ceremony even included a choreographed sword fight between Legolas, and Khal Drogo. I wonder who won?
No detail was spared in the wedding of Michelle and Justin, featured on Offbeat Bride. When these two began their love affair over A Game of Thrones: The Card Game, it was only natural that their wedding follow the theme of their favourite game. Their wedding featured fun props like dragon skulls, banners of the Great Houses and the toss of three plush dragon eggs. They even had an entire Wedding of Fire and Ice site dedicated to their special day. Their ceremony included the merging of two Great Houses; the Starks of Winterfell and the Targaryen dragonlords. It helps that the bride regularly cosplays as Daenerys. Guess who was one of their guests? None other than the Night King himself. Bad luck for whoever got seated next to him.
What bride and groom wouldn't want to sit on their own custom-built Iron Throne? With some serious creativity and ingenuity, Mocha Rose florists transformed a simple chair into an Iron Throne masterpiece, for Sam and Eric's GOT-themed wedding.
GoT Wedding Decor Checklist:
Medieval goblets and metallic crockery
Map of Westeros seating plan
Scented candles
Great Houses banners
Fresh foliage, natural materials and earthy tones
Custom-built Iron Throne
Lots of swords, daggers and weapons
Flowers
According to FloraQueen, there's a flower for every major character in Game of Thrones. Who would've thought? Drawing inspiration from this list, have the Jon Snow groom and his Night's Watch brothers wear helleborus orientalis, or lenten rose, for their boutonnière. The perennial flower is known for its tough resistance to the cold, just like those lads who guard the Wall.
As for the bouquet, draw inspiration from your chosen house to create a rich and romantic ensemble. Daenerys shall have a toothy shrub that emulates her beloved dragons' sharp spines and added red protea for its scaly effect. The Starks' tragic history is captured by blue thistles and their endurance to the snow is represented with snowy white peonies. House Lannister's regal colours of gold and reds are displayed in celosia and bottlebrush. As for House Tyrell? Naturally the flower of choice is the golden rose of Highgarden.
Leslie Kremp, wedding flower specialist at Kremp Florist shares how to really make the flowers at your wedding  stand out:
Consider a red wedding — certainly not THE Red Wedding— but a wedding featuring plenty of red!
Strong tones of red and burgundy accented dark green evoke the rugged times of Winterfell.  Roses of all shapes and sizes along with peonies, and even carnations would be the best choices when paired with vine-like foliages such as nagi or Italian ruscus.
Be sure to incorporate metal accents of brass and pewter and lots of lots of candles to really get the feel of dining in one of the Seven Kingdoms. Oh, and if you happen to know a dire wolf — they make excellent ring bearers!
Kimberly from Artemisia Studios is all about beauty, community and conscious choices. She has a whole bunch of flower ideas:
Protea, hanging amaranthus, saracena lilies, ferns, tropical greens, wild flowers. Also bachelor buttons, cabbage and sweet William. Native flowers and funky unique blooms are cool!
We're in love with these elaborate displays of floral beauty from Gabi Burton of the Fine Flowers Company:
For a GOT themed wedding, you've just got to go with deep, moody and opulent colours and a touch of gold or bronze props.
Or keep it natural and opt for long banqueting tables with tonnes of foliage, candles and of course gold chairs (or if you can get them of course thrones!)
Florismart, a community of growers and florists, helps you find local florists across the UK to fulfill your floral needs: from gift bouquets to funeral flowers and from wedding flowers to flower workshops. Iris reflects on what her fellow florist did in the past, and what she would do herself:
Florismart florist Katie-Jane Hermes from The Garden Studio has supplied flowers for a Game of Thrones wedding in the past. She then opted for a very natural bouquet with trailing Amaranthus and natural meadow flowers for that summer GoT look. But now that winter has come upon Westeros I'd go for deep red blooms and foliage. Include Eryngiums for a rougher touch to match the show's identity. If the bride-to-be enjoys a pun or two she could add Jon Snowdrops and Snapdragons to her list of wedding flowers.
For something even more unique, or if your flower of choice is out of reach, photocopy your favourite Game of Thrones passages and turn them into paper flowers, like this one from Fan Crafted Designs.
Arianne from the L.A. based flower boutique Orchid Republic goes for dark and sultry:
Dark and moody flower arrangements would look captivating when set against winter or medieval-themed wedding ala Game of Thrones. Keep it loose to give it an illusion of wildflowers foraged from the forest. Have fun mixing and matching king protea, hanging amaranthus, ranunculus in deep burgundy, and a bit of blush roses, peonies, or dahlia Cafe Au Lait accentuated with foliage, filler flowers, blackberries, and dried branches.
Amazing Melanie from AFLORAL suggests:
Whether your theme is fire or ice, your wedding flowers should make you feel worthy of a throne!
Thankfully, with artificial flowers, winter never comes. Choose any style, season, or color for your perfect GOT theme. Think jewel tones with deep rich hues, natural elements like faux fur and antlers, and galvanized metals. Just a touch of medieval chic goes a long way! 
GoT Wedding Flower Checklist:
Deep, moody and opulent colours
Strong reds, burgundy and dark greens
Wild flowers, ferns, vine-like foliages
Paper flowers from GoT book
A Game of Clothes – Bride
Daenerys
As one of GoT's most fashionable characters, Daenerys is certainly the most popular fashionista from the show, with plenty of epic looks for the bride to choose from. To channel Dany's look from the first couple of seasons, pre Khal Drogo, dress the bride in a Grecian-style whimsical dress in shades of pale lilacs and blue. Add a pair of gold Egyptian style sandals, a dragon armband, a platinum blonde wig, and a liberal application of bronzer, and you will have the perfect Dany ensemble.
After she is officially anointed as Khaleesi of Khal Drogo's warrior tribe, Dany goes a bit dark. For this rugged cosplay look, dress the bride in earth-toned leathers and rustic woven fabrics stitched together in patched form. A tiny dragon perched on her shoulder wouldn't go amiss.
Finally, but certainly not least, the Breaker of Chains learns what it really takes to be a ruler in the final seasons, and her wardrobe shows it. Have the Mother of Dragons wear a long-sleeved gown in shades of black and red, the Targaryen colours. Finish it off with a flowing cape and a silver dragon necklace from MEY Designs for an outfit befitting a Queen of Dragons.
Of course there's the more traditional route. Drawing inspiration from the Breaker of Chains, this suitably named "Khaleesi" wedding gown from the Coordinated Bride will have you the talk of Casterly Rock.
Anthony from Bridal Reflections suggests making a bold statement to exert your power as the Khaleesi and Breaker of Chains:
The Game of Thrones bride exerts confidence and boldness! The Make A Scene collection by Galia Lahav Haute Couture is for the woman who celebrates her independence. This gown is truly for the bride who isn't afraid to make a scene!
This bride featured in Offbeat Bride seriously has everything going for her – a gorgeous lace wedding gown, a handsome John Snow look-alike for a groom, and a ridiculously large hound. No, we're not talking about that Hound. Featuring a shoot from photographer Allie Dearie, this amazing Game of Thrones-inspired styled wedding is complete with everything from a castle, glass dragon eggs and Dany's signature silvery-blond braids. Oh and there just happened to be a snowstorm before the shoot, turning the castle grounds into a Winterfell wonderland.
The incredibly detailed wedding shoot by Blue Orchid Wedding Planning had everything from wrought iron chandeliers, stunning pewter goblets and oak branches adorned with light white fabrics and delicate florals, reminding us of the secret ceremony between Rhaegar Targaryen and Lyanna Stark. But it was the designer wedding dress from Carol Hannah that stole the show, complete with an intricate wedding cape from The Bridal Project.
Sansa
Poor old Sansa hasn't had the best time when it comes to weddings, but she sure does look good at them.
We're in love with this Sansa Stark-inspired bride, alongside her very own direwolf ring bearer. Inspired by her love of the show, Katie Lee of Katherine Elena Photography captured this gorgeous GOT wedding photo shoot together with Samie Roberts of Something Perfect Weddings & Events. Featured on Charlotte Five, the shoot was suitably held at the Smithmore Castle in North Carolina and included bridal looks from two of the strongest women in the Seven Kingdoms – Daenerys Targaryen and Sansa Stark. But the icing on the cake (literally) was the Mother of Dragons cake from Celestial Cakery that emulated "dragon scales on the first layer, and the style of Daenerys on the top two layers."
What would Sansa Say?
The team at Game of Thrones fansite La Barriera gives us a suggestion for how dear old Sansa would approach the topic of weddings:
"Willy-nilly, Sansa Stark is the main expert in weddings you could ever find in Westeros. Based on her own experience, she would give you the following tips:
First of all, you have to pay attention to the "cloak ritual". During the ceremony for celebrating Sansa's marriage with Tyrion Lannister that had been a little bit complicated. Of course, an exchange of rings would have been more comfortable for the groom and less embarrassing for the bride. But – as you know – traditions lead.
The "putting in bed" is also important; Sansa's advice would be not to spend too much for the dress because it'd hardly survive the first night.
The choice of the wines served during the banquet could be a matter of life and death – literally, if you know what I mean. It had definitely been so for Joffrey Baratheon during his own wedding party.
And what about the music? Some songs don't fit at all with this kind of event! You can't play "The Rains of Castamere" hoping the party doesn't turn out to be crazy or some of the guests go insane!
And last but not least, pay attention to the menu; the sophisticated and exotic tastes are often really appreciated, however, some dishes may be too heavy or indigestible."
Margaery Tyrell
Although she was only a wife for a few hours before becoming a widow, Margaery of House Tyrell has to be one of the most gorgeous brides to grace the Seven Kingdoms. Her gown at the Purple Wedding is the height of elegance, with an open back, a dramatic train of roses, and plenty of dangerous thorns (a nod to her family's cunning ways.) And who can forget that elaborate hairstyle, finished with an antler, thorn and rose crown, representing both houses Baratheon and Tyrell.
We love this Margaery-inspired look worn at a Game of Thrones inspired vow renewal put together by Something Like a Dream Weddings and captured by JCM Photography. The dress has everything from Margery's signature blue hue to the delicate silver embroidery.
The Red Woman
No-one really knows how old Melisandre is, but she looks damn good for her age (when she's wearing that gorgeous red ruby necklace). Channeling the Lord of Light, Alternative Wedding Magazine shot a deliciously dark Game of Thrones wedding shoot. What are a bride's favourite companions on her wedding day (besides her dragons?) A kick-ass pair of heels of course! Inanna bespoke shoes created these Game of Thrones style shoes for the exclusive photo shoot. The night is dark and full of terrors, but with these kicks on our feet, we think we can handle any terrors that come our way.
Quote contributed by Peachy
We're not 100% sure who exactly this bride is meant to be but we think she's meant to be the Red Woman, what with that gorgeous red hair. Anyways, it doesn't matter – she's too gorgeous not to mention. Featured on Unconventional Wedding and captured by Vicki Clayson Photography, the incredibly detailed flowery bridal cape is the perfect touch to her corset-styled dress by Fiona Elizabeth Couture, giving this bridal look a total wow factor. And that moody makeup with a matching coloured headpiece? For that, she takes the crown.
GoT Bride Checklist:
Delicate embroidery
Intricate hair braiding
Statement necklace
Khaleesi Crown
Bridal wedding cape
Moody makeup
Direwolf ring bearer
Bridesmaids
As for her team of trusted advisors, Dany's right-hand woman Missandei is your inspiration. Her look is simple and understated, with a few staples – chokers, earth tones and long dresses with a breezy vibe. Bridesmaids can wear a flowy, ethereal halter dress in muted blues, with a pair of simple sandals like this convertible dress style from Henkaa. Oh so comfy and oh so easy to organise.
For something a bit sexier, there's always Missandei's two-piece look. Pair a floor-length cotton skirt with a crop top that shows off the midriff. Finish the flawless combo with a metal collar necklace that accentuates the collar bones. You'll have Grey Worm really wishing he wasn't part of the Unsullied.
If your wedding is being held more in the North, then you'll need a bit more warmth. Dress the bridesmaids in rich colours, depending on which house the bride hails from. Finish it with an opulent Winterfell shrug for a Sansa-inspired look, like this one from Candice Benjamin's GoT wedding shoot.
GoT Bride Outfit Checklist:
Flowy halter dress
Choker necklace
Earthy tones/ rich colours
Winterfell shrug
Game of Thrones Hairstyles
We're not sure who the main hair stylist is in Westeros, but the characters have got it all – from Sansa's elaborate braids to Cersei's kickass pixie cut, here's some hair inspo for your big day.
Allison from Mane Addicts gives us her advice on how to dazzle your guests with a GoT hairdo:
GOT hairstyles are perfect for the romantic bohemian bride. Your wedding day hairstyle can be as simple as a half up half down look with a sweet little braid on either side pulled and secured in the back–or, you can have fun with it and do something more along the lines of Khaleesi with an intricate double braid. If braids aren't really your thing, try rope braids for a subtle, twisted touch. Any of these looks will look even sweeter when paired with gorgeous fresh blooms.
If you want to get more ideas for your GoT hairstyle, we recommend you to check this marvelous All Things Hair post – Khaleesi hair: 13 epic Game of Thrones hairstyles to recreate.
A Game of Clothes – Groom
Jon Snow
If it's a Jon Snow look you're after, you'll need the perfect brooding winter vibes. Afterall, he's one of the coolest characters on the show, and (SPOILER ALERT) he's actually the rightful heir to the Iron Throne. So what to wear? Black plants, black long sleeves and black boots. (Jon Snow likes his black.) As for those iconic furry coats? Just cut up your IKEA rug. Yup, that's right. It was revealed by one of GOT's costume designers that IKEA rugs were used for that shoulder fur keeping the Night's Watch warm at the Wall. This steamy shoot from Misty C. Photography has got that sexy, mysterious look down with its floor-length fur coat. But can we remind him that the Mother of Dragons is actually his auntie?
Should any Night Walkers gatecrash the party, the groom will need Longclaw, the Valyrian steel sword and the ancestral weapon of House Mormont for five centuries. Make sure it's got that signature direwolf pommel fashioned after Ghost, Jon's pet albino direwolf.
Last but certainly not least there's the hair. Jon Snow wouldn't be Jon Snow without that gorgeous mop of raven black. Go all out with a realistic Jon Snow cosplay wig for that finishing moody touch. He might not actually be Ned Stark's bastard son, but he's still one handsome bastard.
The faux fur coats and quartz boutonnières by Twine & Dandy Floral Design totally added to the Jon Snow mood for Michael and Kamele's snowy Tahoe wedding, organized and styled by MIRA Events and Design. The picture-perfect love between these two handsome grooms was captured by Courtney Aaron.
King Joffrey Baratheon
One of Game of Throne's most despicable characters, King Joffrey probably isn't the first choice for a groom to emulate (especially because of his experience at the Purple Wedding) but Rekhaza Panji Riawan totally does it with style in his wedding to Sista Mauli Wulandari. This couple in Jakarta fully invested in the Game of Thrones wedding of their dreams, having a massive ceremony with 600 guests, setting them back a nice £10,000. I'm not sure of the exact exchange rate, but I'm pretty sure that's a hefty number of Westerosi Gold Dragon coins. In terms of dress, the couple decided to merge two fantasies, with the bride dressed as Lady Galadriel, the elven queen from Lord of the Rings, while Rekhaza was dressed as the young blonde King. The couple was 'protected' by a guard of honour who wore handmade brown robes and carried wooden swords.
Once again, if you don't want to go OTT with crown and royal robes, you can always opt for a sleek fitting suit like this one from Generation Tux. We love the groom's deep green tie, matching boutonnière, and Jon Snow-ish slicked back hair. As for the bride? Seven Hells! Her dragonglass crown, fur coat and wispy long blonde hair screams Daenerys. As do those dragon eggs.
Whatever groom you plan to be, choose your wedding outfit with care; but choose your bride with even more care. La Garde de Nuit team, the French-speaking men of the Night's Watch think:
Robb would strongly advise "don't get married to the daughter of an enemy"
GoT Groom Checklist:
Black, black and more black
Nights Watch IKEA rug fur coat
Crown from your Great House
A mighty sword
A bride who actually wants to marry you
Groomsmen
A fancy occasion requires fancy dress. Whether the groomsmen are knights, noblemen, or mere peasants, they must dress accordingly.
For Jon and Ashley's big day, the groomsmen went for more of a King's Guard look, with full robes of deep blues. This incredible wedding from these two dedicated fans of Game of Thrones took a whole two years to plan, and you can see why; the attention to detail is what really brought their special day to life. Their wedding was filled with impressive homemade decor, from a full-size suit of armor at the entrance to the skull of the unfortunate Viserys, covered in molten gold. The two were married in front of an elaborate stone fireplace, flanked by their house sigils, with a maester to do the honors. The marriage ceremony itself was a traditional medieval handfasting, similar to what Edmure Tully and Roslin Frey did at their wedding, but with less murder afterward.
For the real fun at the reception, the couple and their guests lit up the dance floor to music from the show; their first dance was to "Needle," they cut the cake to "Light of the Seven" and the final song of the night was "The Rains of Castamere." Naturally, the food was all of suitable stature, with a full menu that came right out of the Game of Thrones cookbook!
No matter what your groomsmen attire, the best man should be fitted with a Hand of the King pin, like this authentic one from Noble Collection. Let's hope he's not a Kingslayer.
GoT Groom Checklist:
Cloaks of the King's Guard
Gold armour
Hand of the King Pin
Don't slay the King
GoT Wedding Vows
Standing before friends, family and the High Septon in the Faith of the Seven, the words you and your beloved exchange is the perfect moment to add a touching sentiment from Game of Thrones. As you and your partner's hands are bound with ribbons, here are some Game of Thrones inspired vows that'll have you as choked up as Joffrey.
Moon of my Life. My Sun and my Stars.
That unforgettable romantic phrase exchanged between Daenerys and Drogo.
Father. Smith. Warrior. Mother. Maiden. Crone. Stranger. I am his/hers, and s/he is mine, from this day, until the end of my days.
The words exchanged between Rob and Talisa in unison, before they met their deadly fate at their own wedding.
Night gathers, and now my watch begins. It shall not end until my death.
I am the sword in the darkness.
I am the fire that burns against the cold, the light that brings the dawn, the horn that wakes the sleepers, the shield that guards the realms of men.
I pledge my life and honor to you, for this night and all the nights to come.
The poetic oath spoken by the Night's Watch, edited a tad so that you're pledging yourself to your partner, not some big wall.
You are the moon of my life. That is all I know and all I need to know. And if this is a dream, I will kill the man who tries to wake me.
Another deeply romantic, if not dramatic, exchange of words between Khal Drogo and Daenerys Targaryen.
All Men Must Dine
If there's something the Seven Kingdoms like to do, it's wine, dine and have a good time. To really impress your guests, you'll need to supply a feast in true King's Landing-style. When you're creating your Game of Thrones wedding menu, just make sure there's plenty of food for Samwell Tarly, and even more ale for Tyrion.
Starters
After the ceremony, no doubt your guests will be peckish. Get them started with a selection of Baelish's Little Finger Foods. How about a House Stark Cheese Platter or an Onion Knight Dip. Imp Shrimp and Deviled Dragon Eggs are on the menu too. Perhaps some Greyjoy Weiners will tickle your fancy? And who can forget Jaime's Handmade Meatballs?
Mains
Now for the main course. Of course you'd love a pigeon pie, like the one at Joffrey's wedding, which let out a flock of live pigeons as he smashed his sword into it. But I'm not sure your local baker will be able to pull that off.
Meat lovers will simply die for a Stark Steak, and heads will roll for Ned's Head Potatoes. The main attraction is the Boar that Killed King Robert, roasted on the spit to perfection. To accompany the meaty affair is Hot Pie's baked direwolf bread and Rhaegarlic Bread. Vegetarians can opt for a Wildlings Wild Mushroom Tart.
Charlotte Hutchesson of the Well Being Farm is a big fan of the show, and has some excellent ideas for how to keep your guests fed and happy:
"Other than all the death (not what you want of course), Game of Thrones weddings truly offer theatre, and with the food it is no exception. The Wellbeing Farm is very proud of the produce used in all its catering and we always make a bit of theatre when the food arrives: and no package from us is better than the Rustic Fun featuring a huge platter of meat and sharing sides PER TABLE. Or how about our Host The Roast, which involves a whole joint of meat arriving at your table for your guests to carve themselves!
For another slightly more adorable touch, we of course recommend chocolate "dragon" egg favours. Dracarys!!"
Lizzie at Arabella Reeve Catering says:
Stick to the basics, back in the first book the first meal eaten was a simple: honey-roasted chicken, roasted onions, brown gravy, and lots of wine. Why not emulate this with a sharing board of spatchcock honey roast chicken, with sides for your guests to dig into on the tables. We call this family-style service, and works really well to fit a theme.
Dessert
Finally, but certainly not least, those with a sweeter tooth will devour a 'Fire and Ice' butterscotch with ice cream. A great addition to the table is intricate Dragon Egg Cookies like these little pieces of art from Semi Sweet. Easy on the eyes and easy on the palette too. And who can forget Sansa's Lemon Cakes? Rebecca Hubbel of Sugar and Soul has the ultimate recipe – deliciously zesty and not as sour as Sansa's series of unfortunate events.
GoT Menu Checklist:
Little Finger Foods
Pigeon Pie
Boar that Killed King Robert
Dragon Egg Cookies
Sansa's Lemon Cakes
Cake
What's a wedding without cake? There are plenty of ideas to choose from when it comes to a Game of Thrones themed wedding. Here are some examples and advice, from the best bakers in the realm. Bakers that even Hot Pie could learn a thing or two from…
A GOT wedding cake is an opportunity for a couple to visually express their love for the popular series in an edible art form. There is the temptation to reference a number of symbolisms and imagery from the program, but depending on the type of wedding, care has to be taken for the wedding cake not to be too gimmicky or look like a novelty cake.
The Game of Thrones brief we received was for a regal and opulent luxury wedding cake. We created an elegant cake using symbolisms such as the falcon from the House Arryn (which can be seen from behind the chandelier in the carved out tier), the top tier of the cake was created to look like a crown and handmade sugar roses represented House Tyrell. The couple also created a monogram in the GOT style which we gave a crackled effect.
Having a themed wedding is a huge amount of fun, especially when it comes to planning the finer details and intricacies. An easy item to theme to your Game of Thrones wedding would of course be your wedding cake, but what if you wanted to go that one step further and make something more out of the flavours of each layer? You may choose sticky toffee as that is the pudding you shared on your first date, or you may choose red velvet as that makes you think of the Red Wedding… okay, okay, perhaps that is taking it too far!
But what if your guests are completely oblivious to all your thoughtful touches and little details? That's where Wedition comes in (think of it like a souvenir guide to your day!) You can share the story of your day with your guests, even include the initial sketch of your Game of Thrones cake and point out why all the flavours hold significant meaning to you in an 'It's all in the details' article. You can even use it to include the menu, order of service as well as introduce your wedding party, share your proposal story and how about a Game of Thrones table quiz for good measure?
Take elements from the programme and let your designer design something. Think of the texture of the cake (dragons skin, the iron throne, leather) to implement onto the cake. This could all be done in monotone colours so it's in keeping with a more traditional wedding. Or go all out with bold colours. I would also state no blood on your wedding cake!!
For a truly fantastical wedding cake I would suggest couples point their cake designer towards a theatrical, dark, intricate and very textured chocolate art cake, because you can work chocolate eve lentos in so many different finishes and textures. I personally imagine a vision of a bottom tier surrounded by handcrafted swords to echo the design of the throne, tiers decorated with metallic pewter tones and textures, rising up to a contrasting, very white top tier with a flawless celebrity finish (which you can achieve by spraying very cold white chocolate cake wrap with super white tinted cocoa butter). To finish it off I'd add a personal twist with the happy couple's favourite catchphrase or motto into an "aged" chocolate inscription!
If you're opting for a Game of Thrones wedding cake, the key thing is that it's recognisably "Game of Thrones" and not just "Fantasy" Or "Medieval"
Consider the key elements of the book or show- what features or themes may guests be aware of even if they haven't read the books or seen the series? Dragons, or dragon eggs perhaps, or the battle for the throne. Remember, things do not have to be quite as literal as a cake shaped like a dragon's egg though! You may choose to incorporate the colours of your favourite house in a fairly traditional cake and simply top with an "Iron throne" cake topper for example or maybe a crown. You could add texture to a layer of the cake to replicate a dragon egg look, or have the words of your favourite house hand painted on to the cake.
Get inspired by this enchantingly awesome edible piece of art from Rachel. The vivid colour, intricate details and tiered layers blow us away like the Sept of Baelor on fire:
As a cake designer, I often incorporate themes into the wedding cake. Sometimes the details are more subtle with just a small nod to the theme, while other designs take the theme to a whole new level. The cake is a great place for couples to show off their personalities and have some fun. With Game of Thrones being such a huge hit, it's no surprise that clients are opting for over the top cake designs sharing their own medieval fantasy story with their guests.
Cakes Rock had complete design freedom, and wanted to do something different than all the other GoT cakes out there. They wanted a more elegant, understated, and wedding-style vibe. We love the 'dragon glass' top tier, made with black isomalt, and the icy texture of 'the wall' on the bottom tier.
GoT Cake Checklist:
Sugar roses
Personalized GoT chocolate inscription
Dragon skin textures
Lots of layers
Iron Throne cake topper
All Men Must Wine
Tywin Lannister: "You seem rather drunk."
Tyrion: "Rather less than I'd like to be. Isn't it a man's duty to be drunk at his own wedding?"
It seems no-one really needs an excuse to get on the drink in the Seven Kingdoms. But if there was a reason to get totally sloshed off casks and casks of Dornish wine, it would be the merging of two houses at a royal wedding. To keep your guests in merry spirits (particularly if Tyrion is on your guest list) here's what booze to serve at your nuptials.
The final season doesn't bring with it many reasons to celebrate, but there is one – limited-edition, Game of Thrones-themed scotches, wines, and beer.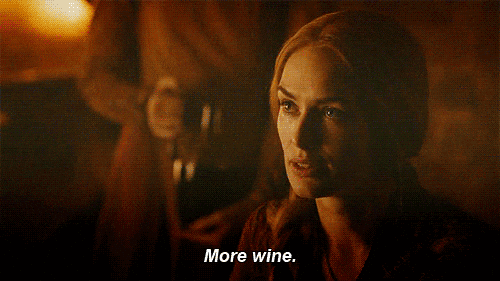 If you can't get your hands on Dornish wine, Paul at Calais Wine has the perfect alternative:
We would certainly suggest for a Game of Thrones wedding a substantial red from the world-renowned medieval city of Carcassonne in South-West France would be highly appropriate.
Featuring the Cathar Cross as its logo, Cité de Carcassonne Gérard Bertrand is from the heart of medieval Cathar country, the land of castles and bloody conquest in Languedoc, and is less than half the UK price!
Chassagne Montrachet Les Les Embazées Ier Cru Louis Jadot would be the ideal partner to any poultry served at a regal GOT banquet.
Cocktails
To get everyone in the mood, Heaping Spoonful has 10 Game of Thrones-themed cocktails to choose from, including the icy White Walker and the deadly Kingslayer.
If you really want to go all out, Hannah Drake has a couple of delicious but dangerous cocktails, including 'Wildfire' and 'Drogon's Breath'. By the Lord of Light, these concoctions are sure to set the party on fire.
If tequila is your poison of choice, Flicks and Food has the perfect potions; theThe Night Watch cocktails and the Imp's Revenge. Both have a healthy hoping of puro agave tequila. Drink enough of these and by the end of the night, Jon Snow really will know nothing.
GoT Booze Checklist:
Game of Thrones themed cocktails
Winter Ale
Dornish Wine
Make sure your wine isn't poisoned
Photography and Venues
If you practice the Faith of the Seven, I'm sorry to tell you that the Great Sept of Baelor isn't available anymore as a wedding venue. You can thank Cersei and her love of wildfire for that one.
We also can't all be Lords of something or other, and inherit a castle from our parents as the backdrop for our wedding photos; but luckily there are plenty of magical locations that really transport you to Westeros.
When it comes to choosing a GoT wedding venue it's all about high ceilings, great halls, and awesome architecture. Think castles and palaces. Venues like Hever Castle, Leeds Castle, and Hampton Court Palace won't disappoint.

— Sascha, Co-Founder, Canvas
The following series was shot at different locations around the world, but the bulk of it was filmed in Northern Island, home to breathtaking cliff-top castles, fine white-sand coasts and rustic woodlands.
No-one knows this part of the Seven Kingdoms like Northern Ireland wedding photographers, Tommy & Laurene of Pure Photo N.I, who have a few location suggestions:
If you're planning on a Game of Thrones wedding, why not choose to have your wedding photographs taken at one of Northern Ireland's Games of Thrones film locations? Popular choices include the iconic Dark Hedges otherwise known as the Kings Road or Dunluce Castle otherwise known as the Pyke stronghold, seat of the House of Greyjoy. Alternatively, you could choose to get married at one of Northern Ireland's best wedding venues, Ballyscullion Park which was used as a film location for Game of Thrones in season 3.
First of all, I am a huge GoT fan and yes, I know some great venues…

The Hollywood Castle would be perfect. They allow outside caters! And The Romanesque Room in Pasadena, Valentine in DTLA, LA River Studios and The Sowden House!

– Emily Brune, EcoCaters
Here are some more suggestions from professional photographer Emma Jane, who emphasizes that it's mainly about working with the styling of the day:
It is easy to add a twist of GOT theme to your wedding but without going too cliché and something you might look back on your wedding photos in years to come and cringe. For photos, it is all about working with the backdrops and subtle styling is key. As a fashion and wedding photographer, I know how important it is to make sure all the elements tie together. Think hard about your venue choice, is this is a castle inspired venue- result your shots are already halfway there. But also think about making use of the gardens- especially is there are a few nice ruins or rustic elements in the gardens.
Adding elements such as a faux fur wrap or shawl will work well to give the GOT vibes, looking at having braids in the hair will allow your photographer to capture a great back detail shot. Thinking about getting you and your other half sat within a broken and barren tree while having your wolf sat next to you is very GOT, so think about making it your own if you have your own beloved pooch sat by your side. As well as having a stroll through the woodland with a long and dramatic veil is sure to set the scene.
If anyone knows how to really capture a wedding themed after an American fantasy drama television series like Game of Thrones, it's photographer Marianne Chua. Alongside shooting an average of 40 weddings a year, she shoots production stills for the biggest film-based immersive experience company in the UK, covering productions including Wes Anderson's Grand Budapest Hotel, Back To The Future, and Star Wars. Oh and she's also recognised as a TOP International Wedding Photographer by the Wedding Photojournalist Association UK, so heed her advice:
To get the Game of Thrones vibe in your wedding photography I think it'd be key to choose wisely with your venue: a castle or old heritage/grade listed type building would have the right amount of dark corners and dramatic directional natural light coming through the windows to recreate that winter is coming atmosphere!
According to photographer Masha Kart, it's all about lighting:
Light is one of the most important aspects of photography. The lighting of GOT has already influenced lots of photographers, especially wedding photographers, to create dark, dramatic, back-lit scenes. It looks great, very cinematic, epic and adds drama.
Everybody knows GOT, so guests at the wedding can be creative with their outfits. The costumes in GOT are beautiful and very inspiring. As a result, people can have a really unique photo story.
The moody lighting in this shoot by photographers Hansel FM & Co really captured the love between Danie and Fran, dressed in gorgeous Game of Thrones-themed robes and fittingly royal crowns.
The shoot is held at Newman's Castle, and makes us totally swoon. Lifestyle photographer & stylist Carissa Rumps of Wild Rumpus Photography nails everything in this Jon Snow, Daenerys themed wedding, including an actual dog-wolf (which we are in DIRE need of.) Although Ramsay Bolton probably wouldn't be too happy with that.
Captured by Donna Rave Photography, we love how Jack and Louise added slight touches of the Seven Kingdoms to their wedding held at Mount Druid. The woodlands setting, the bride's leafy crown and the King's Hand broach made this wedding the talk of Westeros. Louise's white-blond Daenerys locks were definitely in her favour.
Here is great venue advice from Jamie, from Mango Muse Events:
One of the great things about GOT is the vast number of beautiful scenes, landscapes, and buildings used in the series.  
My recommendation is to choose your wedding location/venue based on what inspires you.  That could be an old castle or ruins. It could be a cliff. It could be an ice cave. It could be a rocky beach.  Or it could be a tropical garden. The options are almost endless!
GoT Venue/ Photography Checklist:
Film locations
Castles and ruins
Woodlands and forests
Dramatic, moody lighting
Song and Dance of Fire & Ice
DUUUN DUUUN DUNDUNDUUUN DUUUN DUNDUNDUUN DUHDUH DUNDUN DUHDUH DUNDUN
We all know that infamous, ridiculously exciting theme music played during the opening credits of Game of Thrones. But there are plenty more iconic melodies composed by the genius that is music composer Ramin Djawadi which will give your wedding the very essence of the Seven Kingdoms.
Here's the ultimate GOT wedding playlist for your nuptials. A man's ears are blessed.
Light of the Seven
The Knight King
Needle
Rains of Castamere
You Know Nothing
Winter Has Come
What is Dead May Never Die
Winterfell
Hear Me Roar
Reign
Sure you could play these off the venue's speakers, but how magical would it be walking down the aisle to a full blow orchestra playing your favourite GoT music?
What's a wedding without a little dancing?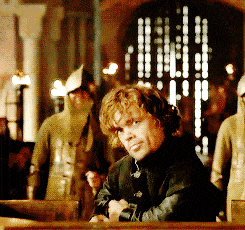 If there's anyone who knows how to move with grace in Westeros, it's the swaggering swordsmen of the Free City of Braavos. Unlike Westerosi knights, Bravos practice a swifter style of swordsmanship known as the Water Dance. Perfect for a couple's first dance, water dancing emphasizes fluid movements punctuated by swift attacks. Unfortunately, you probably don't have the same luxury of Arya, attending a private water dancing workshop with Syrio Forel, the former First Sword of Braavos. But you can still recreate aspects of the dance by watching the Water Dance scene over and over again before your wedding.
A great spectacle to be had at your wedding is this Game of Thrones-inspired medieval dance performed at Mundo Medieval Mexico, which can be learned by the bridesmaids before your wedding day. Their flowing blue robes combined with the dramatic intro music will add all the drama and all the fun. Even the Night King won't be able to resist joining in.
And there you have it! How to survive a Game of Thrones wedding, and how to pull off one wedding to rule them all. Thomas M.D. Brooke, writer of Roman Mask and Bedrock of Empire, and a devoted fan of historical and fantasy novels give us a suggest character quote from our favourite opportunistic anointed knight:
Ser Bronn of the Blackwater would say: "There is always good work to be found at weddings. Well paid too, as long as you can be trusted to keep your mouth shut and go about your work in secret. But if I were you, I'd keep a dagger hidden in your boot, and a mail-shirt concealed under the fancy clothing that lords and ladies like to wear. You can often smell the blood before the night is out, and I don't just mean what you find on the bed sheets…."
Once the ceremony is over, the bloodshed has been cleaned up and two Great Houses have been joined, there's still one last piece of advice from Theon Greyjoy:
Finally (or Series 8)
So there you have it, my lovely couple. We hope you found plenty of inspiration to plan your own GoT-wedding. In case you need a little refresher, here's a Game of Thrones-themed wedding checklist. Pin it, share it, save it on your phone. OH and, don't forget your dagger!
P.s. And then, there is always that one guy:
Don't do it. You'll look back in ten years times and think what idiots you were.

It'll be like looking at 50-year-old blokes now who have 'tribal art' tattoos circa.1998

– Andrew from Andrew Billington Photography
Rae is a 20-something professional digital nomad with a deep dislike for the term 'digital nomad'. When she's not daydreaming about squirrels, bamboo straws and strong cheese, she's hunched over her laptop, furiously smashing out sarcastic jokes and witty words. Her work has received starred reviews from her mother, her cat and her local McDonald's server. Most days you'll find Rae galavanting around the world, hopping from one coffee shop to the next on the hunt for the world's fastest Wifi and perfectly ripe avocado.